Simple Hack To Prevent Smudging Of Eyeliner – Tutorial With Detailed Steps
Learn some ways to avoid smudging and give your eyes that sparkling glow.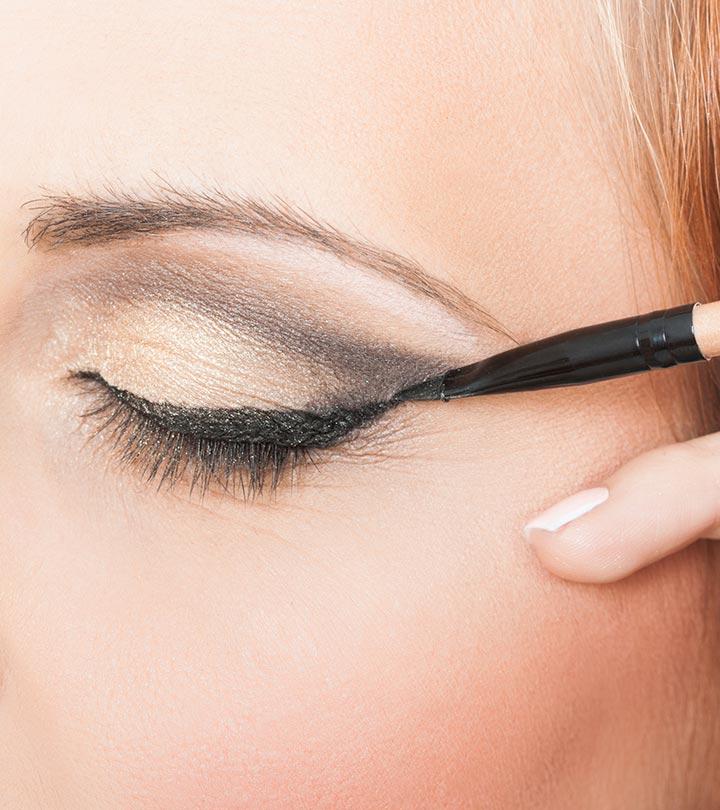 We have got you covered if you are wondering how to prevent eyeliner from smudging. Well-defined eyes can turn your look from drab to fab in no time. All you need is some good hacks to ace your eye makeup. In this article, we share some exclusive tips that can help you prevent smudged-eyeliner situations. Swipe up!
How To Prevent Eyeliner From Smudging?
Follow these 7 simple tips and stop eyeliner smudging under eyes.
1. Use Good Eyeliner Formula
A good eyeliner formula itself will never budge or smear off your eyes. Always invest in a good eyeliner for your eye makeup. It will turn out to be your best friend in makeup. You need not buy an expensive eyeliner for it to be good. If you cannot afford high-end brands, it is best to go for affordable eyeliners. The best budget eyeliners include Lakme Absolute Shine Eyeliner, Maybelline Hyper Glossy Liquid Eyeliner and Kryolan Liquid Eyeliner.
2. Apply Concealer In The Under Eye Area
Take your favorite concealer and apply it in patting motions on your under eye area. This step will prevent your eyeliner from running. It also prevents its seeping into the fine lines of the under eye area. Evening out the skin, the creamy formula of the concealer fills in all the lines. It acts as a barrier between the skin and your eyeliner, so that the formula lasts longer and stays fresh.
3. Try The Layering Technique
Don't we all try layering our lipstick to make it vibrant and long-lasting? The technique is simple – apply, blot and reapply again! Well, the same trick applies for your eyeliner too. This simple idea keeps your eyeliner intact for the whole day. Start by applying your eyeliner and then softly smudge it out with a pencil brush or a cotton swab. Then, reapply one more time and your eyeliner will last really long. It will not slip, smear or slide off your eyes!
4. Apply Face Powder
I know you are hearing it for the first time, but it works wonders! Just as setting your cream foundation with powder prevents creasing, powder your eyelids before application of eyeliner to avoid creasing and slipping off of the eyeliner. This technique helps in setting the eyeliner intact and in place.
Stylecraze Says
If you are using eyeshadow, apply it before applying eyeliner. The eyeshadow will absorb the oil in your skin and act as a dry canvas for your eyeliner.
5. Use Oil Absorbent Sheets
This trick will be of great help for people with oily skin. You might have noticed several times that within an hour of application of makeup, some shine and greasiness appear around your eye and t-zone areas of the face. Use good oil-absorbent sheets and blot on the area to remove any oiliness, which might lead to faster creasing and slipping of your eyeliner.
6. Use Primer
Eye primer helps in setting and intensifying your eyeshadow. It also helps in preventing your eyeliner from creasing. Start applying an eye primer and set it with your favorite compact powder, and then apply your eyeliner to make it last long, for the entire day.
7. Seal It Up
If waterproof eyeliner formulas still run away, try eyeliner sealers that are easily available today. The sealer helps in setting the eyeliner in place for long hours. The Kryolan Eyeliner sealer and Make Up Forever Eyeliner sealers can easily make your eyeliner a winner for you!
A Simple Tutorial On How To Stop Eyeliner From Smudging
Products Used
Here is a list of products that you need, to prevent your favorite eyeliner from running down your eyes:
Compact or translucent powder
Shimmery gold eyeshadow from the Elf 144 Ultimate Eyeshadow palette (optional)
Matte Black Eyeshadow from Oriflame Marcel Eyeshadow and Blush palette.
Loreal Million Lashes Mascara
Lakme Absolute Kohl Ultimate Kajal
Stepwise Tutorial
Step 1: Pat The Eye Cream
Before we move on to the actual tutorial, we'll need to get our eyes ready! Gently pat some eye cream to the under eye area to hydrate and relieve any dryness that is present. Apply and blend it completely with a light hand until it is fully absorbed into the skin. People with pigmented eyelids would have to use an orange or peach colored corrector prior to the layering of the concealer to get a flawless finish.
Take a liquid or cream concealer and gently pat it on your under eye area. If you have pigmented eyelids then you can apply the concealer over the eye area too. This trick will keep your eyeliner in place and prevent running. The added benefit of wearing a concealer is that it prevents seeping of the kajal into the thin fine lines of your under eye area. The creamy formula of the product fills all the skin lines, creating a flawless base. It also acts like a barrier between your skin and eyeliner.
Step 2: Set The Concealer
Then, set the concealer applied earlier with a translucent or compact powder to prevent smearing of the cream or liquid products. Pick a fluffy powder or eyeshadow brush and load some powder, then pat it on your eyelids as well as under eye area to avoid slipping off of your eyeliner. This makeup technique is loved by makeup artists as it sets the eyeliner intact for long hours!
Step 3: Apply Eyeliner
The next step is eyeliner application. Choose a perfect eyeliner formula depending upon your eye area. The formula plays a vital role in preventing running of eyeliners. Long wearing and smudge-proof formulas will last longer and you needn't worry about them smearing off your eyes. You definitely needn't invest in expensive eyeliners. If you really can't afford expensive high-end brands, then the best bet is to choose affordable eyeliners like Lakme Eyeconic kajal, Maybelline Colossal kajal, Loreal Magique kajal. These are the best budget friendly kajals, which are easily available and stay for long hours. Apply the kajal thickly or thinly on your lower lash line as well as line your waterline with it.
Step 4: Set The Kajal
The next step is to set the kajal as we did with the concealer earlier. This is a really great trick to stop the eyeliner from smearing or running. After applying the eyeliner, allow it to dry for 2 to 3 seconds. Then, grab a black eyeshadow and layer it all over your eyeliner. The eyeshadow should be in the same color of your eyeliner. Use a fine thin or pointed eyeliner brush to create a neat and precise finish.
[Read: Emo Makeup Tutorial And Tips]
Step 5: Powder The Lower Under Eye Area
The final step is to powder the lower under eye area once again with a very light hand. This step will remove any fall outs left by the black eyeshadow as well as prevent any further running of the eyeliner.
Stylecraze Says
In case the eyeliner smudges accidentally, you can fix it by applying concealer to your lids. Use an angled brush or eyeliner brush for application.
Infographic: 4 Ways To Stop Your Eyeliner From Smudging
Sometimes, eyeliner can make or break the entire look. There are many ways to prevent your eyeliner from smearing or running down your face, including powdering the eyelids and using oil-absorbing sheets and concealers. While all hacks discussed in the article are effective, a few ensure infallible results. Scroll down and check out the infographic to learn more.
The easiest answer to how to prevent eyeliner from smudging is to get your hands on a liner with a great formulation. However, you can try a few other hacks, as described above. The simplest among them include powdering the eyelids before applying liner, using oiling absorbent sheets if you have oily skin, applying concealer on the under-eye area to fill out fine lines and creases, and using the layering technique. If all else fails to get you the desired results, or you need your liner to last for long hours, invest in an eyeliner seal. Get inspired by the tutorial shared here to get a no-smudge eye makeup done in a jiffy.
Frequently Asked Questions
Can you apply eyeliner without primer?
Applying eyeliner without a primer will make your eye makeup appear uneven. A primer helps form a smooth base allowing the liner to glide through the skin easily.
Why does my eyeliner keep smudging?
Either your natural oil or the oil from your moisturizer causes your eyeliner to smudge. Wash your face thoroughly and apply primer on the eyelids to avoid smudging.
Why is my waterproof mascara smudging?
Your waterproof mascara can smudge if it is not oil-proof.
The following two tabs change content below.