50 Best Cornrow Braids Hairstyles For Women To Try In 2023
Style your natural textured hair in versatile, protective, and edgy cornrow braids.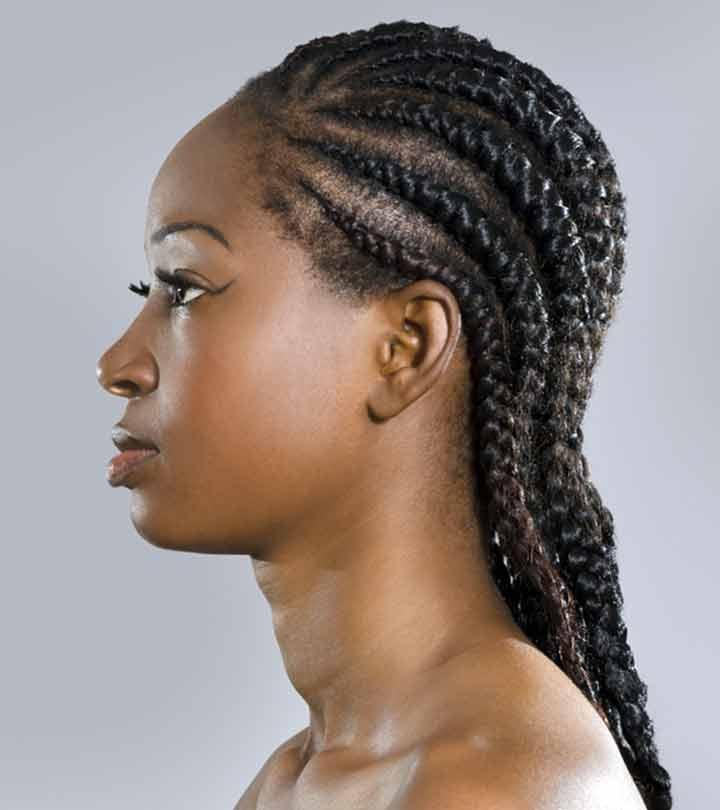 With so many black women embracing their natural textured hair, we decided to shed some light on iconic black hairdos like cornrow braids. Once you have styled your hair in cornrows, you can further style these braids in updos, twists, and many more cornrow braid hairstyles. Also, you can use these extensions to increase your hair length, add a dash of color, and make your hair look thicker! These cornrows are not only stylish but also protective hairstyles passed from decades. It is not just a fashion statement, but a beautifully woven lesson in heritage.Think of all the cornrow styles, colors, and patterns that people have come up with over the years.
Danielle Wilkinson Brucklacher, a licensed cosmetologist, says, "Cornrows are fashionable and they can create many unique designs." Each tells its own wonderful story. How can we not celebrate that?
So let's delve into everything cornrow – from hairstyles to how you can cornrow your hair! Keep reading to learn more!
Before You Get Started
You need to have healthy roots and edges and a moisturized scalp to experiment with cornrow braids.
Individuals with tightly coiled hair can blow dry their hair before braiding to stretch their curls and give your cornrows a neater look.
Avoid getting tight cornrow braids to prevent scalp tension and hair damage.
Restrict the use of hair products on cornrow braids to avoid product build-up.
How To Cornrow Your Hair?
Start out by planning what pattern you want your cornrows to follow. (Psssst…our list of ideas below is the perfect place to start your planning.)
Spritz on some water all over your hair to dampen it.
Brush your hair to remove all the knots and tangles.
Part the hair you want to cornrow and section off the rest of the hair with the help of sectioning clips or hair elastics.
Moisturize the hair you are going to cornrow with cream.
Divide the section into three parts and simply braid it for two stitches.
Then, start adding a few strands of hair to the middle section of the braid with each consecutive stitch.
Once you have run out of hair to add, simply braid the rest of the way down and secure the ends with a hair elastic.
Part the next section of hair that you want to cornrow right next to the first cornrow and repeat all the aforementioned steps until all of your hair has been braided into cornrows.
Trivia
The sculptures known as the Venus of Brassempouy and the Venus of Willendorf, dated 25,000–30,000 years back and discovered in France and Austria, respectively, are the earliest examples of hairstyles that look to be cornrows or braids.
50 Cute And Chic Cornrow Braids Hairstyles
1. Cornrow Braids With Pink Highlights
Want to make your cornrows look vibrant yet gorgeous? Get some bright pink highlights braided in them. Doing thick cornrow braids is the best way to flaunt this gorgeous color!
2. Cornrow Braids With Golden Highlights
When in doubt, get golden highlights. It is a super versatile hair color, so you do not have to worry about it not suiting your look or skin tone in any way. Give your cornrows the love of gold and flaunt your mane like never before!
3. Short Beaded Cornrow Braids
Short hair? Don't care! Thanks to fun braid beads readily available on the market, you can give that instant twist to your short cornrows with barely any effort. Clip the beads to the ends of your braids. You are now set to rule the world!
4. Pastel Blue And Blonde Thick Cornrow Braids
They say we only live once. Life is too short to refrain from experimenting with hair colors. Pastel blue and blonde may sound like an eccentric combination, but if you try them for your cornrows, you will be in for nothing but sheer magic. So, take the plunge and bless your cornrows with this adorable combo!
5. Triangle-Patterned Cornrow Braids
This hairstyle is here to make you look like a million bucks! So, ditch the regular cornrows and get these fun patterned cornrows to amp up your look. It will also give you that cool undercut vibe.
6. Pastel Pink Cornrow Braids
Pastel pink is, without a doubt, one of the most fun colors for highlights. It is bright, cute, and fun all at the same time! There is no way you can ever go wrong with this color. So, spice up your cornrows by adding a touch of pastel pink, and you will thank us later!
7. Unicorn Cornrow Braids
Unicorn-colored hair has been creating some buzz for quite a while now, and the reason is obvious. It is unique and brings out your fun side. Therefore, it only makes sense if you jump onto the unicorn bandwagon and pair it with a cornrows look.
8. Blue Cornrow Braids
If you have not dyed your hair blue at least once in your life, you are missing out on a lot of fun. Blue brings out the dark tones of your hair and lets you grab all the attention. So, give your cornrows by adding blue highlights to them!
9. Cornrow Braids With Gray Highlights
Gone are the days when gray hair was considered a sign of aging. Today, gray is the color for every 'It' girl on the planet. It is unique yet stylish and makes you stand out from the crowd. So, if you want to bless your cornrow braided look with something fun, get some gray highlights, and nothing shall stop you from stealing the show!
10. Feed-in Beaded Braids
Let's kick off this list with a bang with this gorgeously embellished cornrows style. The highlight of this hair look is the singular cornrow that runs down the center of the model's head, from which shoot out all the cornrows from the sides. Hair extensions have been fed into the cornrows and embellished with beads in a variety of shapes and colors to make this a look fit for a princess.
11. Candy Floss Cornrows
Look like a sugar pop princess with this bright pink hair look that is sure to make heads turn. This cornrow style makes use of candy floss pink and black box braid extensions being inserted into them (known as crochet braiding). It leaves one side of your head with lesser box braids to keep the cornrows there exposed and create a contrasted look.
12. Combined Cornrows Dutch Braids
Create a high fashion statement by braiding your hair from the center towards your ears in a jagged cornrow pattern. Now, here's the fun part – Dutch braid some hair extensions on either side of your head along with the tails of all your cornrows. You now have a hair look that gives an edgy twist to the innocent schoolgirl pigtails style.
13. Cornrows Mohawk
No one will dare mess with you when they see you sporting this kickass cornrows Mohawk look. The cornrows have been done up in a trippy curved pattern and gathered in the center of the head, where extensions have been attached and molded to create a Mohawk. Unleash your badass side to the world with this edgy and cool look.
Stylecraze Says
You may also add some glitz to your style by adding some sparkling barrettes.
14. Swirly Cornrows Afro
Why choose between cornrows and an afro when you can sport both? Get the best of both styles with this swirly whirly cornrows pattern that is flirty, feminine, and so cute to look at. Crochet braid some short brown Marley hair at the back to create a gorgeous little afro and finish off the look.
15. Floral Half Cornrows
Whoever said that you can't sport a protective style on your wedding day was so wrong! The stunning bride pictured above has gone for two simple diagonal cornrows on either side of her head and left her natural hair loose at the back to create a unique half up/half down look. To complete the floral queen vibe of the look, red carnations have been used to adorn the crown of her head.
16. Mixed Cornrows Mohawk
Girl, now this is a look that will get all the boys knocking at your door. Start with some cornrows in various sizes that start from your ears and curve up towards the center of your head. Add in some extensions to the tails of your cornrows and create a slay-worthy braided Mohawk.
17. Subtle Frontal Cornrows With A High Ponytail
When it comes to cornrows styles, you could go as full-on or as subtle as you want. This subtle braided style involves cornrowing your hair right at the front and tying your natural hair into a voluminous high ponytail to up the dramatic factor of your edgy look.
18. Pulled Back Half Cornrows
So you want to have your hair out of your face and still highlight the natural beauty of your hair, huh? Try out this half done cornrows style that makes use of vertical cornrows going from front to back and leaves your natural hair loose at the back. Functional and fabulous is how I'd describe this beautiful style.
19. Cornrows Ponytail And Bun Combo
Wowza! Now here's a style that has a lot going on in it. First up, the neat horizontal cornrows create a symmetrical pattern that has a mesmerizing effect. The style then incorporates crochet braiding Marley twists to create a dual ponytail and high bun look that is the very definition of 'cool'.
20. Twisted Cornrows Floral Updo
When it comes to bridal hairdos, you gotta keep it as pretty as possible. This mixed cornrows/afro updo is a perfect example of that. Instead of the traditional braids, these cornrows at the back have been done up in a twisted style to create an intricate look. The hair on top has been left naturally styled in an afro and accessorized with pink roses and baby's breath to add an ethereal feel to the hairdo.
21. Celtic Knot Cornrows Headband
Headed to a holiday party? Or maybe a friend's wedding? These cornrows have been done up in a Celtic knot style that is sure to grab the attention of everyone in attendance. Four cornrows wind together in an intricate Celtic knot design and continue into braids that form a gorgeous headband. The rest of the hair is left loose to add a soft and feminine touch.
22. Cornrow Accented Bun
Create a beautifully contrasting style with this alternating thick and thin cornrows pattern that continues into braids and ties up into a top bun. Accent the thinner cornrows by dusting some silver glitter on them to complete your translation into an adorable little pixie.
23. Ginger Feed-In Braids Ponytail
If you define your style as quirky and "out there", here's a style that may pique your interest. While thin cornrows that contain most of the natural hair have been done up in a horizontal manner, the fed-in braids go from the front to the back. The think ginger braids have then been tied up into a high ponytail to create a look that is especially suitable for an athlete.
24. Ivory Cornrow Braids
Hop onto the white hair bandwagon with this side parted cornrows style that is nothing if not insanely awesome. With its off-center parting and combination of thick and thin cornrows, there is nothing that can stop you from being at the top of the style game. And don't worry, you don't really need to bleach your hair white to sport this look. All you need are white hair extensions and you're good to go!
25. Midnight Blue Ghana Cornrows
Show your love for the enchanting night sky with this gorgeous midnight blue hair look. These Ghana braids have been added to the simple straight back cornrows in a twisted manner on the top. They then descend into beautiful long braids to create a stunning hair look.
26. Cutesy Cornrow Double Buns
You don't have to leave your pigtail days behind now that you're all grown up. Here's a cute way that you can sport them along with your dreadlocks. This super adorable look makes use of only four twisted dreadlocks that are combined into two buns at the back. And the best part is that you can do these all by yourself because they're that simple!
27. Magenta Straight Backs
Bring a little bit of whimsy into your look with the help of these bright magenta hair extensions added into your cornrows. The thin straight back cornrows are easy to manage and add oodles of fun and flirtation to your look.
28. Barbie Pink Dutch Braid Cornrows
Your cornrows don't always have to be super thin and intricate. If you're like me and are too impatient to cornrow all your hair or get them done, these Dutch braids cornrows are easy to do and look super chic. Combine some Barbie pink extensions with your natural hair while braiding to make your style feminine, yet badass.
29. Bright Red Cornrows Bob
All you ladies with medium length hair out there, listen up! Mix up your style with a bit of bright color and a unique hair look. Go for a vivacious crimson shade and do up your hair in some straight back cornrows to create a short bob and set your style quotient on fire.
30. Deep Purple Cornrow Buns
Purple has the kind of sexy touch that is unmatched by any other color. So go for some extensions in this gorgeous color to create some simple and thick cornrows. Leaving aside a braid on each side, tie all your other cornrows into a high bun and a low bun to create a style that no one has ever seen before.
31. Shaded Mauve Curved Cornrows
You don't have to miss out on the long and brightly colored cornrows trend just because you have short hair. Get yourself some mauve extensions in various colors that are bound to give your cornrows a dynamic look. Pair your gorgeous extensions with some alternating thick and thin curved cornrows to up your style quotient by like a million points.
32. Curved Cornrows Bun
You know what's the beauty of having cornrows? You can be ready for any formal event in a jiffy! Tying your cornrows into a low bun will take you like 2 minutes. And the look created will be uber chic and professional. Pair this hair look with some gold jewelry and a bright red lip to complete your fierce look.
33. Cherry Bomb Straight Backs
Are you on the lookout for a style that will help you make a bold statement? Say no more! This bright cherry red color will do just that. And with a color this vibrant and "out there", you don't need anything more than some simple straight back cornrows to round up your daring hair look.
34. Twisted Cornrows Updo
High fashion doesn't have to be truly bizarre or something you can't practice in your day-to-day life. This twisted cornrows style is proof of that. The horizontal cornrows have been arranged in a gutsy updo that creates the illusion of a bob cut and is sure to make you look like the badass you are.
35. Red Bombshell High Ponytail
Unleash your inner red hot sexy mama with this mixed box braids and cornrows style. And as intricate as it looks, it's actually pretty easy to do! All you need to do is crochet braid some bright red box braids into your cornrows at the crown of your head and wrap one braid around all the others to tie them into a ponytail. Add some silver beads and rings to your braids to make your style look fit for a queen.
36. Blue And Purple Bodacious Cornrows
Here's another cornrows style that you can do yourself easily. These bodacious cornrows in shades of electric blue and deep purple will make everyone around you turn green with envy. All you need to have are some good Dutch braiding skills and you are good to go!
37. Inferno Cornrows
Set any room you walk into on fire with these cornrows that make use of all the shades of an inferno. These super thin cornrows are attached with braided extensions that are ombred at the bottom in striking shades of orange and yellow. And since all the color you need in your look is taken care of by the hair, you can simply throw on clothes in some neutral tones and you're good to go!
38. Dual White Cornrows
Black and white is a color combination that is eternally stylish and can never go out of fashion. This interesting take on cornrows involves just two twisted cornrows, done with white extensions, going diagonally backwards and ending in braids. The crazy contrast created by the black and white is enough to bring anyone to their knees.
39. Twisted Cornrows Bouffant
If you have long hair that is bothersome but you are not ready to cut it short, try out this cornrows style for size. These twisted cornrows have been swept up and fashioned into a classy bouffant at the top of her head. There you go! Your hair is out of your face AND you didn't even need to chop it off!
40. Cornrows Top Bun
Now here's a style fit for ballerinas and athletes. These cornrows that start from the hairline and go towards the crown are done specifically to be tied into a top bun that looks effortless and chic. Insert some silver beads to bling up your cornrows and you're good to go!
41. Blonde Straight Backs
Blonde is one of those hair colors in which any hairstyle stands out beautifully. Take these simple straight back cornrows, for example. The cornrows look prominent and insanely gorgeous in this light color. And if you're a natural blonde, you don't even need to go through the effort of coloring it!
42. Blue Accented Cornrows
Here's a cornrows style that is going to be easy on your pocket. You don't need to spend a bomb on getting a bunch of extensions. All you need is one pack of blue extensions and add one in each of the cornrows. What you will end up with are some gorgeous cornrows accented with streaks of blue that are perfect to sport at a music festival.
43. Golden Blonde Cornrows Bun
Now here's a style that's fit for a queen. Stunning golden blonde extensions have been fed into the cornrow that curve from the model's right temple towards the back. The low bun tied from loose extensions at the back creates a look that has a classy and dignified air to it.
44. Hourglass Cornrows
The pattern of these cornrows fits their moniker. Why go for simple straight back when you can go crazy with their pattern? These alternating thick and thin cornrows curve in and out to form a mesmerizing hourglass shaped pattern that is mind-blowing and beautiful.
45. Cornrows Braided Pony
Awaken the kid within you with this braided pony style that you probably sported in your school days. But that doesn't mean that you can't look hella stylish sporting it now! These straight back cornrows are attached with box braids at the crown and braided into a high pony braid to create a magnificent hairstyle.
46. Combined Cornrows
Be crazy, be awesome, be you with this simple blonde cornrows style. Six straight backs combine to create two cute braids at the back and make a super chic style. All you need to do is put on your most colorful outfit and you'll be spreading sunshine everywhere!
47. Baby Pink Accented Cornrows
Show off your feminine and flirty style with these adorably colored cornrows. Go get yourself some cute baby pink extensions and braid them into your cornrows. Add some silver beads to add some sparkle to your hair and voila! Your adorable style is ready for you to flaunt!
48. Lilac And Blonde Straight Backs Braid
Once Khloe Kardashian embraces a style, you know she's going to put her own spin on it and absolutely slay it. Here, she has added lilac extensions to her blonde hair and gone for some simple straight backs. The highlight of this style though is the way she has combined the tails of all her cornrows into a single braid at the back.
49. Ginger Cornrows Double Bouffant
If you're a Janelle Monae fan, check out this style inspired by her signature look. Micro cornrows are braided from the back to the front and extensions have been added to create two bouffants – one right above the forehead and the other behind it. Throw on a pair of high heels and some diamond earrings and be the diva that you were meant to be.
50. Caramel Strawberry Cornrows
What do you get when you combine colorful hair extensions with cornrows? A stunning hair look, of course! This gorgeous cornrows style has been done up with caramel, pink, and white extensions to create a beautiful fusion of colors. The big bun at the back adds a cute bohemian element to the whole look.
Cornrow braids hairstyles are perfect protective styles that provide you with a completely different look. These hairstyles are not only a fashion statement but also represent heritage. Cornrow braids can be styled in various ways. Subtle frontal cornrows with a high ponytail, ginger feed-in braids ponytail, shaded mauve curved cornrows, blue and purple bodacious cornrows, lilac and blonde straight backs braid, ginger cornrows double bouffant, and caramel strawberry cornrows are a few cornrow braids you can try for a new look. Choose the style that suits you the best.
Frequently Asked Questions
Are braids and cornrows the same?
Cornrow is a braiding style where the braids run parallel to the scalp. However, there are many other types of braiding styles.
Do cornrows hurt?
No. You should let the braider know if your cornrows hurt as it might mean that they are too tight and can damage your hair follicles.
How long do cornrows lastr?
It depends on your hair routine and type. While cornrows usually last 2-4 weeks, you can keep them for as long as 12 weeks with extensive care.
How do I protect my cornrows?
Keep your scalp moisturized, protect your hair with a satin scarf or pillowcase while sleeping, and avoid styles that may strain your scalp to make your cornrows last longer.