20 Incredibly Stunning DIY Updos For Curly Hair
Get ready to be astounded by how beautifully these hairstyles transform you.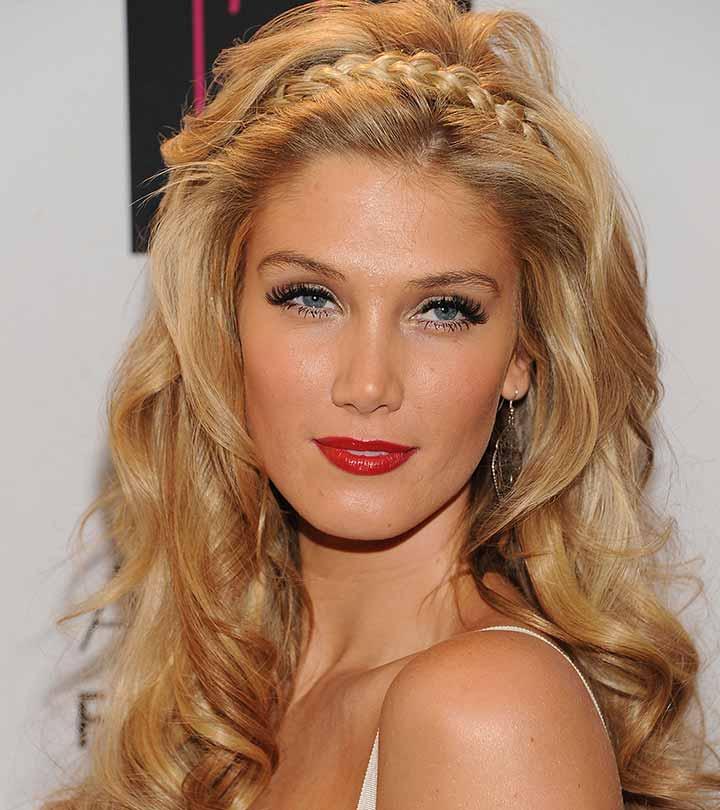 One of the classiest ways to style long curly hair is updos. Updos can accentuate your curl definition and make your hair look elegant! So, keep reading to check out some truly surreal updos for long, curly hair. From a glamorous curly updo to a high, wavy topknot, here are some of our favorite updos sported by celebs to flaunt their curly tresses.
Before You Get Started
Curly hair is usually frizzy. Conditioning and anti-frizz products are a must when styling this hair type.
Curly hair also tends to be brittle. Therefore, make sure your updos are not done too tightly to avoid breakage or thinning at the edges.
Sea salt spray can add an extra oomph factor to your natural curls. So, do not shy away from messy updos.
Untie the updos before going to bed to let your hair and scalp relax.
How To Do A Updo For Long Curly Hair – 20 Simple Styles:
1. Curled Ponytail With Rolled Bangs:
We can't get enough of the girl-next-door vibe of Ariana's look! The red hair tied back in a bouffant ponytail with loose curls look simple and stylish. It's perfect for date nights and casual gatherings. To recreate Ariana's look, tease the hair at the crown and twist the hair in the front toward the back of your head.  Create a simple bun in the back and leave the rest of the hair on top of it. Let those curly locks do its work!
2. Curly French Updo:
The Age of Adaline actress Blake Lively looks no different than her character in the movie. Blake's simple yet elegant curly French updo at is simple and can be your go-to hairstyle whenever you're in a rush. To recreate it, comb your hair backward, tease the hair in the front and the crown for volume, and tie a ponytail. Now make a loose French braid and tie the ends. Voila! You are ready to slay!
3. Classic Bun With Front Waves:
Taylor Russell's braided bun is most probably the easiest hairstyle one can come up with. This simple hairdo requires no effort as you only need to divide your hair into two parts, style the front hair section in small finger waves, and roll your hair into a bun. Secure it with pins, and DONE! You are all set for the date night or a movie night, or for the party… this hairstyle will guarantee you turn heads everywhere!
4. Messy Halo Bun:
This strong, fierce actress was seen dolled up in the season premiere of Game of Thrones in this elegant and bold hairstyle. If you are fierce enough to pull it off like Nathalie Emmanuel, then simply comb your luscious curls up and tie them in a loose half bun; mind you, the bun should resemble a halo. Do not tuck the ends and let them fall on one side, covering the temple.
5. Classic Top Knot:
Modern Family star Sarah Hyland is a promising and fashionable actress. Her looks are usually simple and elegant, which one can recreate in minutes and glam up in no time! For this style, tease the hair in the front and comb it back to make a bouffant. Gather all hair at the top of your head, tie a ponytail, and wrap the hair around its base to make a messy top knot. Secure the bun with U-pins and you are all set!
6. Top Knot With Side Braids:
Katherine Goble Johnson may have been a hidden figure in NASA but Taraji P. Henson is one of the most lively and upfront actresses in Hollywood. Her bold acting career is an inspiration to many. This hairstyle of hers is just as bold. The front section is gathered on the top, the sides have front-to-back braids and the rest of the hair in the back fall over the shoulder. You can easily recreate this hairstyle on relaxed natural hair.
7. Braided Updo With Cornrows:
Bridgerton's famous Queen Charlotte carries her hair as a crown. She has a set of cornrows on the sides, and the hair is twisted and braided to create this huge top knot. To recreate this style, you have to get small cornrows on the side. Gather all your hair into twisted braids and wrap them into a bun on top. Secure the hair with U-pins and wear your crown to all parties!
8. Curly Side Updo:
Zoe Saldana's curly side updo complements all face shapes, hair types, and occasions. To recreate this simple hairstyle, divide your hair into several sections. Lightly twist them a couple of times and gather them all to one side of the head and create a messy bun.  Let a few locks on the front loose to frame your face. Finish off with hair spray.
9. Braided Headband Messy Bun:
Heidi Klum's braided messy bun just pumps up the style quotient. Recreating her look. Section the hair horizontally, ear-to-ear. Gather the hair at the back and create a messy bun. Now, weave a Frend braid with the front hair section. Instead of tucking the ends, secure them with U-pins with the bun and let the ends flow. You may use more U-pins to secure the bun and the braid and finish off with a medium-hold hair spray.
10. Messy Bun:
This messy updo sported by Angelina Jolie looks classy and is best for formal and casual events. Tease your hair at the crown and gather them in a messy bun. Let the long bangs frame your face. Pull the hair on the crown to loosen them, and use a hairspray to hold the hairstyle in place. However, if the bun loosens up from the side– Oh well! It can. It's a messy bun!
11. Half Updo:
Another way to stick to an all-natural look without the extra volume of the curly fro is to pull half the hair back like singer Carrie Underwood did. To recreate Carrie's gorgeous hairdo, tease the hair at the crown before securing it in a bouffant. Pull the hair back away from the sides and secure it behind your head, creating a simple half-updo. Finally, curl the ends of your hair with a curling wand, and use some hairspray to keep them defined.
StyleCraze Says
You can accessorize the half updo with dried or fresh flowers to achieve the ultimate boho look.
12. High Ponytail:
Songstress Jennifer Lopez looks oh-so-chic with her super-long, curly locks pulled up into a high ponytail. This curly ponytail has a high fashion edge, thanks to the teased texture and high placement. Curly hair expert and owner of Royal Locks Curl Care Casey Simmons says, "A half-up high ponytail is super popular for longer wavy hair. It creates a cascading look of long locks with gorgeous movement. My favorite is a half ponytail with hair wrapped around the hair tie. This simple addition gives even more volume and style. Stick a small pin through the half ponytail for more enhancement."
Recreating this chic style works best with longer hair. Combine natural texture with texturizing spray for dynamic curls. Once you've styled your curls, pull your hair up into a super-high ponytail, and secure it with hair elastic.
13. Easy Updo:
Hayden Panettiere's look is effortless yet beautiful. The wavy updo can look really sophisticated and sexy, and unlike straight hair, your curly hair will add volume and movement to the look. The actress chooses to leave her bangs curled framing her face, and the curls are quite defined but the whole look is kept vaguely loose, and tousled for a playful look that packs in lots of texture and bounce
StyleCraze Says
You can accessorize this elegant low bun with hair ornaments like floral hair clips. The style enhances the dimension and looks fantastic on long hair with highlights and lowlights.
14. Crowning Braid And Long Curls:
Singer-songwriter Delta Goodrem looks gorgeous with glamorous curls in her long golden locks. She sports a milkmaid braid, and keeps her look sexy with voluminous, luscious curls. This romantic hairstyle is perfect for long, straight, and thick hair, as the curls give some definition to straight locks. "Your hair is your crown. It is the outward expression of your style and personality. Wearing a braid crown is an impactful statement and versatile. It can be used in a whimsical boho look or as an elegant finisher to any formal hairstyle for any occasion," says Casey Simmons, owner of Royal Locks Curl Care.
15. Topknot:
Actress Thandie Newton always looks gorge when she shows off her curls. For the look, gather your hair at the top and slightly to one side and secure it with pins without causing any breakage or damage. This long curly hair updo is chic and contemporary, and it's a great way to keep cool in summer.
16. Curly Ponytail With Bouffant:
Megan Fox vamps up the classic ponytail hairstyle by wearing hers high up on her head with a puffy bouffant. Perfect for a night in the town, to recreate Megan's look, tease hair at the crown to create a big bouffant, and use some light hairspray to keep your bouffant smooth and sleek. Keep the rest of your hair curly for a stunning contrast.
17. Curly Sock Bun:
AnnaLynne McCord is right on trend with her huge, gravity-defying sock bun. Embracing the natural texture of her curly hair, the 90210 actress added even more pizazz to her updo with a few tendrils of hair left loose to frame her face. A great hairstyle for summer, and for semi formal events, we absolutely love this look!
18. High Bun With A Bouffant:
The partial high bun updo gives you the best of both worlds: the elegance of an updo in the front and plenty of length in the back. High School Musical actress Vanessa Hudgens looks fabulous in a curled updo with a quiff. To recreate the look, backcomb your bangs and pin them back for a glamorous look. The advantage of wearing a quiff with curly hair is it makes your face look slightly longer and slimmer and it needn't be neat and time-consuming.
19. Wavy Updo:
This Taylor Swift hairstyle offers plenty of volume and dimension. Here she's got her long locks in a classic updo with loose, face-framing tendrils of hair. For soft and romantic hair texture like Taylor's, spritz some texturizing spray into your hair, pull your hair tight and pin it back. Let a few flyaway hairs stay loose for a finishing touch.
20. Curled Updo With Bouffant:
The classic look— Singer Demi Lovato's intricate, curled updo style—is simple. The actress looks fabulous with her auburn locks in a flirty bouffant. To recreate her look, begin with a curling iron to make a lot of spiral curls. Next, backcomb hair to create volume, section out some tendrils around the face and sweep the rest of the hair back into a ponytail. Twist, wrap and secure the hair back using pins. Finish off the sexy look with a generous amount of hairspray. A big plus – it doesn't hide your face!
Video On Simple Curly Hair Updos
Curly hair is so many things. With the right hairstyles, you make it look wild yet beautiful or elegantly styled in place. And for our straight and wavy-haired friends, you can always curl your tresses using curler or non-heat methods. The 10 hairstyles mentioned in this article are chic and stylish, making the curls the star attraction of your look. However, do not forget to give these updos for long curly hair a good spritz of hairspray to keep them lasting long and in place without any pesky flyaways. If you have not already got to it, you should scroll up and try out these hairstyles yourself, and pick your 'chosen' one!