Top 4 Health Benefits Of White Beans You Must Know
This nutty and healthy legume is a highly nutritional food you can add to your daily diet.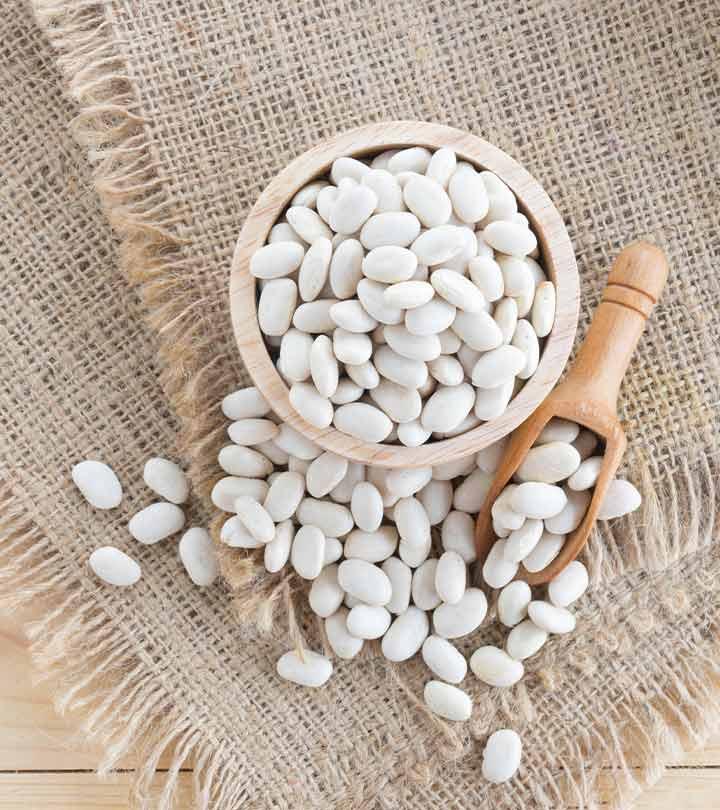 White beans are legumes with white casings that are native to North and South America. The benefits of white beans can be attributed to their nutrients, antioxidants, protein, and fiber. They help treat many ailments. Their nutty and earthy flavor has made them a favorite among many. Adding these beans to your diet has several health benefits – including their anti-cancer properties that may help reduce cancer risk. In addition, they can cook quickly and go well with many soups and salads.
This article explores the nutritional breakdown, varieties, health benefits, possible side effects, and certain tasty recipes of white beans. Keep reading.
Did You Know?
White beans originated in Peru and spread to South and Central America through trading passages. Then Spanish explorers introduced white beans to the Europeans.
Types Of White Beans
White beans are available in four varieties. These include:
Navy beans (oval-shaped) are the smallest type of white beans and have a mild flavor. These fiber-rich beans can easily absorb the flavor of other ingredients while cooking. Navy beans have a smooth and shiny surface and become creamy when cooked. These are also perfect for mashing, pureeing in dips, and thickening soups, stews, and ragouts.
Cannellini beans are the largest of the group and are sometimes called white kidney beans. These have a smooth texture with a nutty, earthy flavor and tender flesh. You can often find these beans in Italian dishes like Minestrone and also in many Mediterranean dishes. Moreover, white kidney beans can be a perfect addition to your salads, soups, stews, and chili.
Great northern beans are medium-sized and have a nutty flavor and firmer flesh. These are larger than navy beans but smaller than cannellini beans. These thin-skinned beans can hold their shape better and are commonly used in French cassoulets, soups, and stews.
Baby lima beans (butter beans) are small, smooth, and creamy with a buttery texture. These greenish beans are the starchiest of all and are often used in soups, stews, succotash, and casseroles.
Fun Fact
The phrase "spill the beans" might have been inspired by a democratic voting system in Ancient Greece. Voters were given a white, black, and brown bean, each. The voters would place any of the beans in the jar. White beans meant yes, brown beans were a soft no, while black beans were a strong no.
White beans contain a wide variety of vitamins and minerals. Here is the nutritional breakdown of white beans.
Nutritional Profile Of White Beans
According to the U.S. Department of Agriculture, 1 cup (179g) of cooked white beans contains (1):
| | |
| --- | --- |
| Calories | 249 |
| Protein | 17.4g |
| Fat | 0.626g |
| Carbohydrate | 44.9g |
| Dietary fiber | 11.3g |
| Calcium | 161 mg |
| Iron | 6.62 mg |
| Magnesium | 113 mg |
| Phosphorus | 202 mg |
| Potassium | 1000 mg |
| Sodium | 10.7 mg |
| Zinc | 2.47 mg |
| Manganese | 1.14 mg |
Consuming foods rich in dietary fiber (like white beans) may help manage constipation as fiber helps to bulk the stool and make it easier to pass. A review published in the World Journal of Gastroenterology suggests that dietary fiber intake can increase stool frequency in patients with constipation  (2).
What makes white beans desirable to be included in your diet? In the next section, we bring to you a list of their health benefits.
Health Benefits Of White Beans
1. May Help With Weight Loss
Legumes are rich in fiber, protein, and slow digestible carbohydrates, which help increase satiety (3). A study suggests that the alpha-amylase-inhibiting activity of white beans also contributes to weight loss (4) (alpha-amylase is a digestive enzyme responsible for converting complex carbohydrates to simple sugars). This process slows down the absorption of carbohydrates. In addition, 60 slightly overweight individuals fed with white kidney bean extract were found to lose weight significantly (5).
Another study by the University of Minnesota (USA) found that dietary fiber intake may decrease appetite and energy intake, and help with weight loss (6). A comparative analysis also indicates that people who regularly eat beans are 22% less likely to be obese than others (7).
2. May Regulate Blood Sugar Levels
A higher intake of legumes rich in dietary fiber may help reduce the risk of type 2 diabetes (8). As stated, white bean extract can inhibit alpha-amylase enzyme and slow down the rate of carbohydrate absorption, reducing the glycemic index (GI) of foods (9). Studies suggest that low GI (slow-digesting) diets reduce blood glucose levels and help manage diabetes (10).
3. May Help With Cancer Treatment
White beans contain antioxidants, polyphenols, and ferulic acid, which are known for their anti-cancer properties (11), (12). A study conducted by the University of Crete (Greece) found that polyphenol antioxidants prevent the proliferation (rapid increase) of cancer cells (13). It is also worth mentioning that a higher legume intake is linked to a reduced risk of colon, kidney, stomach, and upper digestive tract cancers (14). However, more studies are needed to understand this benefit of white beans in humans.
4. May Improve Heart Health
Consuming legumes is linked with lower total and LDL cholesterol levels. In a small study of only 31 people, participants who replaced red meat with legumes for three days/week observed a reduction in their triglyceride and LDL cholesterol levels (15). A continued reduction of elevated triglycerides and LDL cholesterol levels may help reduce the risk of cardiovascular diseases.
These are the health benefits of white beans. But how do you prepare and include white beans in your diet? Find out in the following section.
How To Prepare And Include White Beans In Your Diet?
White beans are available in fresh or dry forms. Dry beans should be soaked in water for approximately 6-8 hours before cooking. If not, you can boil them for two minutes and let them sit for an hour with the lid on.
Note: Soaking and thoroughly rinsing helps soften dry beans and reduces the risk of gas and bloating (20) by dissolving some of the phytate in the shell which can be hard to digest and causes reaction.Check the labels for salt content in the case of can
Check the labels for salt content in the case of canned white beans. White beans have a mild flavor and can be added to various dishes like soups, stews, dips, and casseroles.
Elliot Reimers, a nutritionist, says, "White beans are also a much better substitute to potatoes than lentils because they have a much better texture and are way higher in nutritional value."
White beans add variety to your diet without compromising on nutrition. If you are keen on including them in your diet, try these three easy and delicious recipes.
White Beans Recipes To Try
1. White Bean Soup With Bacon And Herbs
What You Need
Great Northern beans – 1 pound (soaked overnight, rinsed, and drained)
Thick-sliced bacon – 1¼ pounds
Finely diced carrot – 1
Finely chopped Spanish onion – 1
Extra-virgin olive oil – 2 tablespoons
Finely diced celery ribs – 2
Minced garlic – 4 cloves
Chopped thyme – 2 teaspoons
Bay leaf – 1
Chopped rosemary – 2 teaspoons
Chicken stock – 10 cups
Salt and freshly ground pepper – to taste
Process
Cook the bacon over moderate heat in a large soup pot. Keep stirring until it turns brown and crisp (about 7 minutes).
Drain, reserving the fat and bacon separately.
Heat the olive oil in the soup pot. Add the onion, carrot, and celery. Cook over moderate heat, occasionally stirring until the vegetables soften (about 8 minutes).
Stir in the garlic, bay leaf, and one teaspoon each of the chopped thyme and rosemary. Cook until they become fragrant (about 2 minutes).
Add the drained beans, stock, and three tablespoons of the reserved bacon fat, and bring to a boil.
Simmer the soup over moderately low heat until the beans are tender (about 1½ hours).
Discard the bay leaf and stir in the remaining thyme and rosemary.
Season the soup with salt and pepper, and transfer to shallow bowls. Garnish with the bacon and serve.
2. White Bean And Kale Stew
What You Need
Canned cannellini beans – 4 cups (drained and rinsed)
Cooking oil – 2 tablespoons
Chopped onions – 2
Mild or hot sausages – ¼ pound
Minced garlic cloves – 3
Canned diced tomatoes – 3-1/3 cups
Fresh ground black pepper – ½ teaspoon
Salt – 1¼ teaspoons
Kale – 1 pound
Process
Heat one tablespoon oil in a pan over moderate heat in a Dutch oven.
Add the sausage and cook, breaking the meat up with a fork until it loses its pink color (about 2 minutes).
Add the remaining oil to the pan and stir in the onions. Cook for about three minutes or until the onions start to soften, stirring occasionally.
Add the garlic and kale to the pan and cook, stirring until the kale wilts (about 2 minutes).
Stir in the tomatoes, salt, and pepper.
Reduce the heat and simmer (covered) until the kale is tender (about 15 minutes).
Stir the beans into the stew and cook for about 5 minutes.
3. White Beans Recipe With Tomato And Garlic
What You Need
Canned cannellini beans – 4 cups (drained and rinsed)
Olive oil – 1/3 cup
Diced tomatoes – 3.5 cups
Chopped fresh sage – ¼ cup
Kosher salt – 1 teaspoon
Garlic cloves – 4 (sliced)
Granulated sugar – 1 teaspoon
Freshly ground black pepper – ½ teaspoon
Low-sodium chicken broth – 1 cup
Minced fresh parsley leaves – 2 tablespoons
Crispy bacon – to garnish
Process
Heat olive oil in a medium skillet over medium flame.
Add the sage and sliced garlic. Shake the pan so the garlic doesn't stick. Do not stir because the garlic may clump.
Turn the heat to medium-low and cook for 3-4 minutes or until the garlic turns very light gold and the sage darkens slightly.
Add the tomatoes and salt. Simmer, often stirring, until the tomatoes are shiny and their juices have evaporated (8-10 minutes).
Add the pepper, sugar, and chicken broth, stirring often. Bring the broth to a boil.
Reduce the heat to low. Add the beans and simmer (stirring often) until the liquid has evaporated (18-20 minutes).
Remove from the heat and stir in the parsley. Season, if needed, with more salt and pepper.
You can drizzle extra olive oil and sprinkle crispy bacon before serving (optional).
Are white beans and pinto beans the same? If not, how do they differ? Scroll down to know.
White Beans Vs. Pinto Beans
Pinto beans are small and have a streaky-brown color when raw. They have a much creamier and softer texture. But white beans are a bit firm on the outside and softer on the inside. Pinto beans have an earthy, nutty flavor while white beans have a tender and earthy tone to their flavor. However, both these beans are high in protein and dietary fiber.
White beans are nutritious American legumes featured in many savory dishes. It is loaded with proteins, dietary fiber, vitamins, and minerals. The benefits of white beans range from promoting heart health to possibly lowering blood sugar levels. They are rich in dietary fiber, which may help promote bowel movements and relieve constipation. White beans may also aid in weight loss since they induce the feeling of fullness after eating. They have a low glycemic index, which makes them ideal for those watching their after-meal blood sugar spikes. Add these nutritious beans to your diet as their earthy, nutty taste goes well with various dishes. However, when consumed in excess, white beans can cause problems. If you are allergic to legumes, avoid eating white beans. You should limit its use and consult a doctor if any adverse reactions occur.
Frequently Asked Questions
Which is healthier: red or white beans?
Red beans are healthier than white beans because of their low saturated and high polyunsaturated fat content. Red beans are also rich in niacin, vitamin B6, and phosphorus.
Is it OK to eat beans every day?
Yes. It is OK to eat beans every day. They contain many nutrients that help promote overall health.
Key Takeaways
 White beans are high in macronutrients, including fiber and protein.
 High fiber foods can help with weight loss, balance blood sugar levels, aid cancer treatment, promote heart health, and protect your skin from damage.
 They are also available in dried or canned form, and their gritty, nutty flavor complements a wide range of recipes.
 Some people who have an allergy to legumes may react to certain types of beans. If you have a history of allergic reactions to chickpeas, lentils, or green peas, it is advisable to check with your doctor before introducing new types of beans to your diet.
Sources
Articles on StyleCraze are backed by verified information from peer-reviewed and academic research papers, reputed organizations, research institutions, and medical associations to ensure accuracy and relevance. Read our editorial policy to learn more.