9 Hottest Short Haircuts For Women
Dare to chop off your lock and make your own style statement with a different look each time.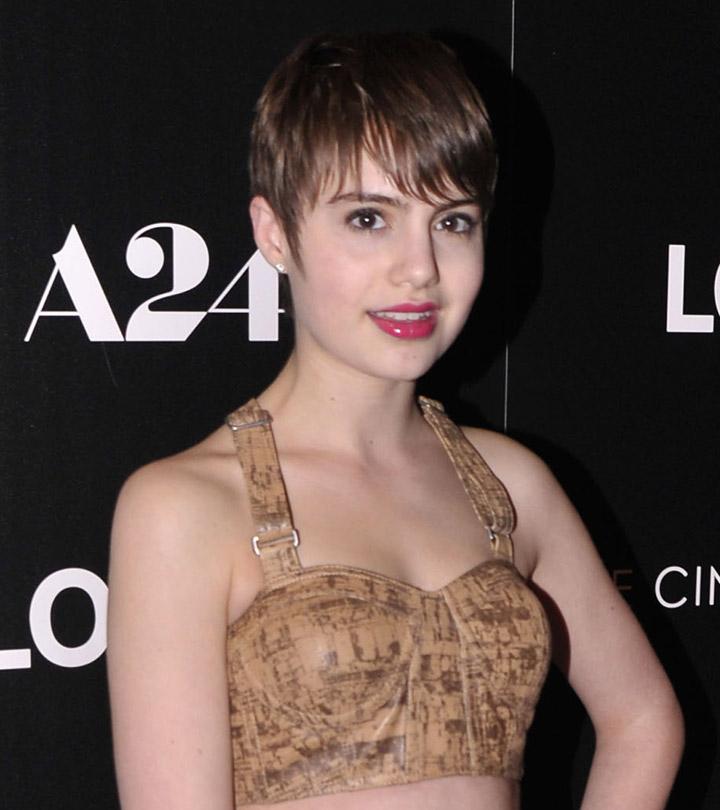 While long tresses are many women's dreams, short haircuts for women are also loved by many because of their versatility and ease of carrying. They are not only easy to maintain but also make you look unimaginably cool. To help you experiment with these cute hairstyles, we have curated a list of some amazing short haircuts that are worth trying. These haircuts will allow you to experiment with your look and offer you a gazillion ways to style your hair. So, without much delay, let us go ahead and explore them all!
Before You Get Started
In short haircuts, the hair tends to be more bouncy as the weight of the hair is not weighing them down. Therefore, if you have curly or wavy hair, it will be more springy due to its lightness.
Short haircuts need to be trimmed about once a month.
Be careful with your haircut choices since a disastrous one will be obvious with short hair and take a while to grow back. For example, a short blunt bob is not suitable for a round face as it emphasizes the roundness of the face. Instead, you can opt for a textured pixie to add more depth and dimension to your look.
Short Haircuts For Women
Short haircuts sure look edgy and uber cool, but there's more to them than just that. Professional hairstylist Nadja Vanterpool says, "Going short can add spice to your hairstyle while also offering a fuller appearance to finer hair textures."
Excited to check out these styles? Go on then!
Style 1: Sidecut Pixie Short Haircut
Miley Cyrus transformed from the cute long-haired teenager to the fashionable and outrageous adult we all love!
Miley sports a bold platinum-blonde look that stuns. The sidecut with dark roots paired with textured bangs is a sophisticated look you can sport anywhere and for any season. These bangs work well with any face shape, especially round, heart-shaped, and oval faces. If you are a style-savvy woman with a brave mindset, this edgy look offers you a perfect low maintenance style.
Style 2: Quiff Hawk Short Haircut
When it comes to edge, we have to talk about the edgiest singer there is – P!nk!
Two of the funkiest hairstyles are the quiff and the mohawk. Confused about which one to flaunt so you look badass? Why not try a combination of both, just like P!nk? She's styled her quiff to look like a mohawk which balances out a round face. Traditional mohawks can make a round face look even rounder, but this combination effortlessly showcases the best features of a round face. The shaved dark-rooted sides and platinum hair color bring out light eyes.
Style 3: Layered Bob Haircut
If you want to go all cool and funky, then this is the short haircut you need to call upon! Nadja Vanterpool, professional hair stylist, agrees that the layers give your hair bounce and the bob adds the flare! The style is neat and fun at the same time. This is definitely one layered haircut to try!
Stylecraze Says
If you have a heart-shaped face, opt for a layered bob cut. It helps balance the cheekbones and forehead.
Style 4: Side-Swept Bangs Short Haircut
The purpose of bangs is very simple. It needs to add a new dimension to your face while framing it beautifully. And hence it works miracles on your look if you have a round face! Whether you pick a heavy or light bang, it brings out your eyes kicking up your attraction quotient by more than just a notch. Plus they hide a large forehead with utmost ease.
There you can now have the cake and the icing!
Style 5: Choppy Short Haircut
If different is your aim, then this is the right choice for you!
This is a short layered hairstyle in which the sections are very clearly visible leaving you with a very natural and sporty look. Plus is this one of those hairstyles where you don't have to worry about adding color will affect it! It will only get better. That's a promise!
Style 6: Soft A-line Bob
These are also very popularly known as inverted bobs and are extremely popular too!
Hairstylist Nadja Vanterpool says, "These look flattering on all face shapes adding an air of mystery and glamor that any woman will love!"
Style 7: Wavy Bob Cut With Side Fringe
Take a classic bob and add waves from the mid length along with a side fringe for a dainty yet smart look. This works best for fine to medium hair.
Style 8: Bowl Cut Bob
This is one style that was very popular back in the days not just for simplicity of maintenance but also because it is soooo very easy to do as cut also. The sides and back are cut short to the same length invariably making it seem like someone put a bowl over the head and chopped off the rest! Which is where the name comes from.
This is also quite popularly known as mushroom, beach or put cut.
This is however not recommendable for those of you who have round faces as it ends up giving the face a very roundish look and if you already have a round face then you will end up looking like a ball!
Style 9: Classic Bob With Straight Fringe
The classic bob started a statement of rebellion by the women when they had just gained the right to vote. And till date it is the mark of the bold ones that lead a busy life!
These chin grazing styles with straight bangs offer a look and comfort that just caught on like fire among women. It has held its place ever since. It highlights the eyes and adds a frame of power to the look. However, if you already have a round face then it would be more suitable if you keep the length below the chin.
Infographic: Short HaircutsTo Try Based On Your Face Shape
It takes confidence to go for a short hairstyle look and stun everyone. But, choosing the right short haircut can be tricky. Choose short hairdos according to your face shapes to bring out the balance between your hairstyle and facial features.
Check out the infographic below to know the best short haircuts to experiment with depending on your face shape.


Stylecraze Says
The bob cut was a key component of flapper culture and was made popular by Hollywood movie star Mary Thurman in the early 20th century and by actresses Colleen Moore and Louise Brooks in the 1920s.
It can be scary to take the short hair plunge. How do you know which hairstyle will suit you and your face shape? Hopefully, this article will help you! From bobs to pixies, there are many options for you to try out. You want to pick layered cuts if you have wide cheeks or a round face. Try bangs with a short haircut to conceal a wide forehead. If you are not comfortable with extremely short haircuts, you can always play around with the length. If you want to customize any of these hairstyles, talk to your hairstylist as they will help you pick the best hairdo for you.
Frequently Asked Questions
Does short hair make a woman look younger or older?
Short hair, when done right, usually makes you look younger. The right hair color also matters.
Why do old ladies cut their hair short?
Usually with age, hair may tend to thin out fast, lose pigment, and need TLC. Nadja Vanterpool, a professional hairstylist, says, "To help maintain a good volume, some women may opt for a short haircut as they age." Also it could just be a personal style preference if they want to experiment with their looks.
How will I know if short hair suits me?
Take a ruler and place it perpendicularly under your ear. The ruler and pencil will now create a "T region" with each other. If the measurement of where the pencil meets the ruler is lesser than 2.25 inches, then short hair will suit your face. If it is more than 2.25, it is better you stick to longer hair.
Does short hair suit chubby faces?
Yes it can, provided you get the length and angle of the cut right.