5 Creative Ways To Shorten Your Hair Without Cutting It
Now style your tresses as short as you like without actually taking the plunge.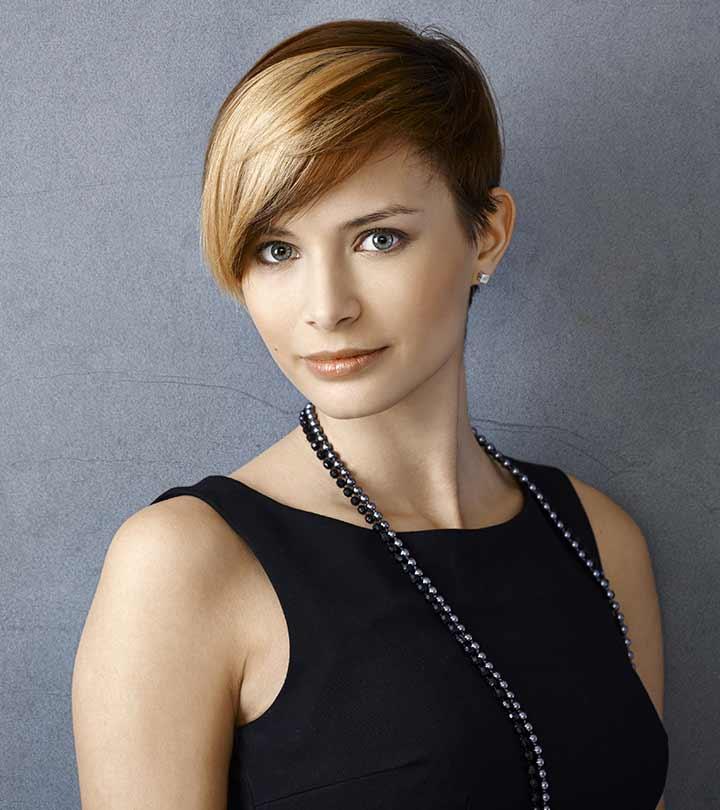 Learning how to make your long hair look short can be tricky. After all, getting your tresses to grow can feel like a massive achievement for those whose hair does not grow at a breakneck pace. But then there's the problem of monotony. You get that urge to do something unique, like chop your hair off.
In reality, you want to have a short hair day without having to commit to cutting your hair! So what can you do? Fake it, of course! Here are 5 interesting methods to shorten your hair without chopping it off. Keep reading!
1. Curls, Girl. Curls!
Curly hair enjoys the sweet reputation of making hair look shorter without making it so. And the best way to get curls is by using curlers. Because heat rollers might expose your hair to prolonged heat which may not be healthy for your tresses.
Wash your hair first. Because this is when it is totally elastic and the easiest to manipulate into any form you want. Use hair curlers depending on the size of your curls you desire. One thing that must be kept in mind is the alignment of the curlers, which should be organized. Otherwise your hair would stand out in different directions and that is not what you want, right?
Sleep with curlers on. I know it will be uncomfortable, but I also know that it's going to be worth it. And once you wake up, DON'T brush your hair, as your curls might get ruined.
And lo! There you go! beautiful curls that make your hair look stylish, and shorter!
2. The Demi Lovato Style
Wanna flaunt a bob hairstyle? Then this is what you should do! Demi Lovato's simple yet trendy bob style makes her stand apart from the rest.
All you got to do is apply a little amount of shine serum to smooth those flyaways. Pull the top half of your hair onto the top of your head and let it stay in place with a clip.
Come to the bottom section of your hair. Make two inch sections that go upto your scalp. Now with the help of a bobby pin, fix the ends of your hair. You can use another pin for extra hold.
Now here comes the magic! Unclip the top of your hair and see it beautifully cascade over the tucked-in hairs. In case all of your hair is one full length, then you can roll the ends of the top half beneath the bottom sections that are pinned.
Use a hairspray to spritz your hair all over.
3. Bobby Pin Flips
Simple, easy and attractive.
That is what bobby pin flips are like.
The first thing you got to do is part your hair from ear to ear in a headband shape. Split the rest of your hair in four to five sections.
Bring up the first section so that it drapes over your face. Now secure using bobby pins, and flip it back over to the back and secure them again with use of bobby pins. Repeat the process with the remaining sections.
Pull the hair in the headband shape back over your hair and over the bobby pins. You can add couple more bobby pins to keep the hair in place.
Stylecraze Says
If you have fine hair, excuse your bobby pins and prevent flyaways by adding hold to your mane. Apply texture spray or sea salt spray to your hair and your pins before you use them.
4. Get A Ponytail
Leave the shorter section of your hair be in the ponytail, because these would serve you as those short hairs which you had always wanted!
And guess what? You can either roll up your ponytail or just pin it to the back of your head!
Stylecraze Says
Those who have layered hair can benefit the most from this technique. Make sure your shorter layers are loose to give an illusion of short hair.
5. The Half Bun Style
This by far is the simplest and fastest way to make your hair short without having to chop it. Tie your hair into a half or incomplete bun, and sweep the extra lose hair onto your shoulders.
If you are a fan of short hair but want to make your long hair look short without going for a cropped haircut, follow the tips discussed in the article. You can make it happen with curls, making your hair look shorter. However, this method is not recommended for regular styling, as excessive heat exposure may damage the hair. The Demi Lovato Style is also preferred for making hair look short. Bobby pin flips, ponytails, and half-bun style make your hair look short and stylish. Try any of the styles mentioned above to sport the short hair look.
Frequently Asked Questions
How do I make long hair look short like a boy's?
The only way to make long hair look short enough to be boyish is to part it tightly and tie it. First, make a side partition and lay your hair flat. Then, tie the rest of the hair in a tight low bun. While you can't hide the bun; however, the hair on the front will look like neatly gelled boyish hair.
How can I hide my long hair in school?
Tying your hair into a bun is the best way to hide length. You can make a single bun or space buns for convenience. You can also braid your hair before pinning them up in a bun.
How do you make long hair look short with ribbon?
Gather your hair at the nape and tie it with a ribbon. Now slide the knot down your hair just above 2 inches from the ends. Hold the loose ribbon ends in either hand and roll it up, making a faux bob. Now, tie the ribbon ends in a bow on the side or top of your head, and that's all,
How do you hide long hair under a hat?
Pin your hair up or make a twisted ponytail and shove it under the hat to completely hide your hair under it.