30 Gorgeous Phoenix Tattoo Designs
You will love these aesthetic body art designs that are as fiery as the mythical bird.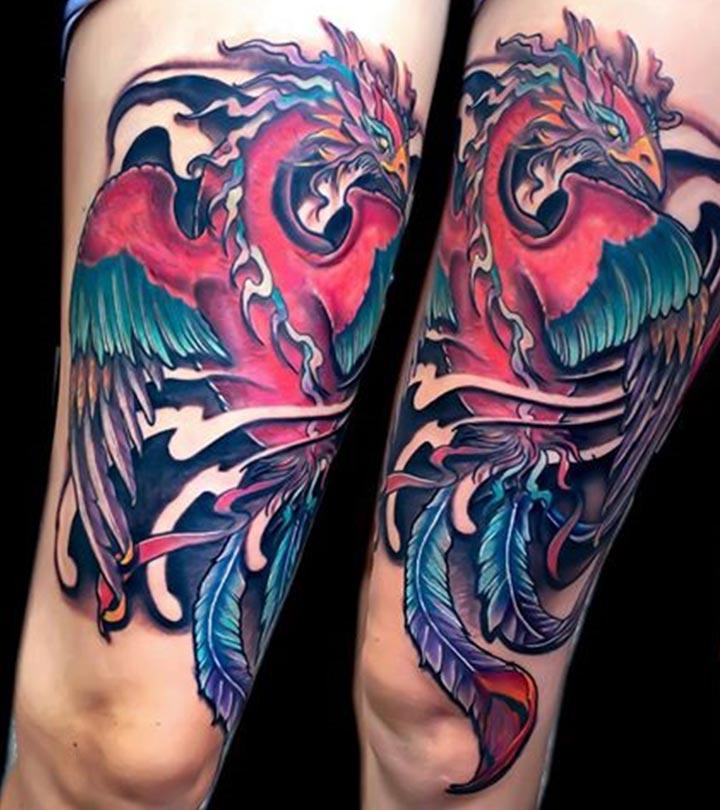 According to Western mythology, the phoenix is a bird that rises from its ashes. So, phoenix tattoo designs provide some great inspiration due to the metaphor they hold and the impressive designs. Since tattoos let you express yourself and narrate your stories and outlook toward life, these designs are perfect.
A creature of Greek mythology, the phoenix symbolizes reincarnation, rebirth, and renewal of life. So, if you advocate to 'never give up,' you can etch these designs on the skin. To help you find your inspiration, we have curated a list of some of the most beautiful phoenix tattoo designs. Scroll down to find the one that you love the most, and let's get some cool tattoos!
Best Phoenix Tattoo Designs With Meanings
1. The Tribal Phoenix
If you are looking for a traditional phoenix tattoo with ethnic vibrance, this Tribal Phoenix Tattoo design should be your first choice. It represents the fierce rage of the brave tribes along with the undying power and immense courage of the phoenix. This beautiful monochrome tattoo is the best choice for ethnic inking.
[ Read: Best Tribal Tattoos Designs With Meanings ]
2. Rooster Phoenix
How about combining this undying mythical creature with the power of the early bird? This detailed colorful tattoo is the perfect choice to cover your arm. This design depicts the undying power of the phoenix with a tinge of Chinese art in the background. This design will surely pose a challenge for your tattoo artist and create the perfect edge on your body art.
3. Phoenix In Vibrant Colors
This beautiful phoenix rising tattoo is as unique in its design as its meaning. This lined tattoo design has four vibrant hues, which begin with golden wings changing to blue feathers, a red body, and a green tail, giving it the rainbow look. The bottom of this alluring design looks like two leaves, which adds to the uniqueness of the design.
4. Flying Against The Wind
This beautiful blue lined phoenix design is the perfect tattoo to portray the "going against the world" vibe. If you are someone who believes in standing up for the right cause and are ready to withstand a storm of people who are against you, this is the perfect tattoo to exhibit it.
5. Gorgeous Phoenix Back Tattoo
If you are on the hunt for the perfect design to cover your back, this beautifully colored phoenix back tattoo is the ideal choice for you. It perfectly portrays the strong fiery person that you are.
6. Phoenix On The Sleeve
Show off this elegant and powerful design on your arm. Make sure the wings of the immortal phoenix wrap around your arms and the brightly colored feathers stretch down until your elbow.
7. Phoenix In Black
If you are looking for a tattoo that contrasts with your skin, this black tattoo is the perfect choice. This intricate phoenix design brings out the beauty of the immortal creature, and the monochrome black coloring adds to its charm.
Trivia
A black phoenix tattoo represents strength, power, and victory over life's adversities and challenges.
8. Phoenix In Love
This passionate tattoo done in black and red symbolizes undying love. Phoenix is the symbol of resurrection. Combined with a hint of the color of love (i.e., red), it creates the perfect tattoo to portray your undying passion.
9. Share The Power Of The Phoenix
Here is the perfect phoenix tattoo if you are looking for a design that symbolizes strength and power. This elegant design is comprised of two intertwined phoenixes facing each other. The rich red hue contrasts with the blue wings beautifully to create this stunning piece.
10. The Heart Of The Phoenix
This unique design is the perfect option if you love unique tattoos. This distinctive tattoo design of a phoenix with one heart and two heads facing two different directions has a deeper meaning. It is the perfect design for your arm, wrist, or just over your heart.
11. Blue Phoenix Baby
This simple tattoo of a baby Blue Phoenix tattoo depicts the rebirth of this mythical bird from its own ashes. This power-packed symbolic tattoo looks amazing when flaunted on your calf at full length.
12. The Phoenix In Flight
This vibrant design is perfect to adorn your arm. The richly-colored phoenix covers a small area, and the thin outline adds to its beauty. The carefully decorated feathers in hues of orange, blue, and red are the perfect blend to etch on your skin.
13. Japanese Phoenix Tattoo
This design of a fiery phoenix with Japanese lettering and scaling style is perfect for anyone who loves intricate designs. It fills up a large portion of your upper arm and is a great way to start a tattoo sleeve.
14. Vicious Phoenix Tattoo
If you want a tattoo that portrays the phoenix in its true element, this design is the perfect one for you. It is done with gorgeous strokes of red, orange, and blue to create a classic phoenix.
15. Phoenix Belly Tattoo
Looking for the perfect tattoo to adorn your belly? This pretty design of the golden bird with blue eyes is the ideal design to sport on your midriff.
16. Burning Fire Phoenix Tattoo
The vibrant warm hues of deep maroon red and orange make this tattoo stand out. It is the perfect tattoo for your upper back.
17. Majestic Phoenix For The Arm
This phoenix tattoo sleeve is the delightful monochrome tattoo and an eye feast. It is an incredibly detailed phoenix done with hyper-realistic shading. This is the perfect design to cover your full arm.
18. Phoenix Whirling Up The Arm
This beautiful black and red phoenix design will look great wrapped around your arm. It signifies a phoenix rising from its ashes and is the ideal tattoo for someone with big goals to fulfill.
19. Blue Phoenix Alighting
The beautiful shade of blue with the slightly Chinese style strokes adds a unique touch to this tattoo. The phoenix rises from a round bottle jar surrounded by flames, which adds the water element.
Trivia
The phoenix represents femininity in traditional Chinese culture and Eastern mythology. It depicts key values like virtue and grace.
20. Air Power Phoenix
This detailed phoenix tattoo with spread out wings lends you the power of the wind. The monochrome design, detailed wings, and intricate shading give you the uniqueness you are looking for.
21. Abstract Phoenix Tattoo Art
Abstract art gives tattoos a modern edge, and combining a modern form of art with an ancient concept creates a unique piece. This tiny tattoo is a geometric masterpiece that is perfect for the back of your neck or your wrist.
22. Phoenix With Wings Spread Out
This beautiful piece of art will make your body a living masterpiece. This tattoo design covers the entire back. The monochrome design is done with beautiful shading and intricate strokes. A woman in the garb of the great phoenix rises above the ground. This is perfect for anyone who loves big tattoos.
23. Phoenix With Ribbons
This beautiful lined black tattoo is the perfect design if you like to keep things simple yet attractive. The beautiful curves look effortless and depict the majestic bird in an understated way. The beautiful tail and wings add a tribal touch to it.
24. Fire And Lava Swirled Phoenix
This beautiful piece of art is one of a kind. The whole body of the tattoo is a phoenix on fire done with hues of orange, red, and yellow. The thunderbolt eyes of the bird draw immediate attention to the tattoo.
25. The Splendid Phoenix
This splendid tattoo for your upper back is a colorful design done with contrasting red, yellow, and blue shades. The long tail and peacock feathers add a gorgeous touch to this tattoo. The intricacy of the feathers and the soaring wings add an opulent touch to this tattoo.
26. The Autumn Phoenix
Autumn brings the warm colors of red, burnt orange, and yellow. This autumn-toned tattoo is a phoenix with pearl white eyes and a broad outline adorned with four bright red ribbons.
27. Phoenix On The Feet
This beautiful monochrome tattoo is the epitome of delicateness. It stretches from the ankle to the foot. The black phoenix with a beautiful peacock tail and mystic clouds lend it a gothic look.
28. Colorful Arm Phoenix
This elegant and colorful design is quite unique. The phoenix tattoo does not have an outline, but is stretched phoenix and done with blue, magenta, cyan, and gold.
29. Full Sided Phoenix
This unique phoenix design is shaped like a dagger and textured with black rough crayon ink. The tail ends in three leaves pointing downwards, which give it an ethnic edge.
30. Cute Phoenix Tattoo
This Cute Phoenix Tattoo design is great if you want to break away from the mainstream depiction of phoenix. This vibrant tattoo done in red, blue, orange, and yellow is all you need to make yourself feel pampered and happy. It is the best phoenix side tattoo.
Infographic: Top 10 Phoenix Tattoo Designs
The phoenix is a symbol of rebirth, perseverance, and immortality. So, if you are looking for a unique design of this magnificent bird, you have come to the right place. We have rounded up 10 breathtaking designs of the phoenix you should take a look at. Check out the infographic below to know more!


Phoenix represents rebirth and reincarnation. It is one of the most commonly used symbols to represent the idea of never giving up. A phoenix tattoo design is an inspirational pattern that can help you depict your stories of success after failure. Since many people ink a phoenix tattoo, it is not easy to spot a unique design. Therefore, the list above will help you find a phoenix design that inspires you and expresses your life outlook. Also, do thorough research about the aftercare tips you need to follow before getting inked.
Frequently Asked Questions
What does a phoenix tattoo represent?
According to the Greek legend, phoenix is a mythical majestic bird that is associated with the sun. It represents rebirth, energy, and passion.
What is the symbolic meaning of a phoenix?
According to ancient Greek mythology, the phoenix depicts resurrection and rebirth. It is a symbol of rising against all odds and striving to give yourself a chance because you only live once and giving up is not an option.
What color should a phoenix tattoo be?
Traditionally, a phoenix is believed to be a firebird, so the common colors for a phoenix tattoo are shades of red, yellow, or orange with the hottest parts of the fire in shades of blues and violets.
Where do you put a phoenix tattoo?
You can place a phoenix tattoo on whichever body part you prefer. If you are unsure of where you want it, you can ask your tattoo artist for recommendations or view their catalogs.
Is a Phoenix a feminine tattoo?
No. As per mythological beliefs, a phoenix is a bird with indeterminate sexual orientation. Therefore, as a symbol too, it does not represent or symbolize any specific gender.
Are phoenix tattoos popular?
Yes, phoenixes are a part of legends across several cultures and symbolize fiery strength, immortality, and divinity. These attributes make them very popular tattoo choices.
What does a blue phoenix tattoo mean?
A blue phoenix symbolizes spiritual rebirth. It reflects your willingness to replace old parts of yourself with new and better parts.
How long would a phoenix tattoo take?
Depending on your choice of design and the size of your tattoo, your tattoo can take anywhere between a one hour session to several multiple-hour sessions.
The following two tabs change content below.