8 Useful Makeup Tips To Make Your Forehead Appear Smaller
Master these simple, illusionary tricks to draw attention away from your forehead.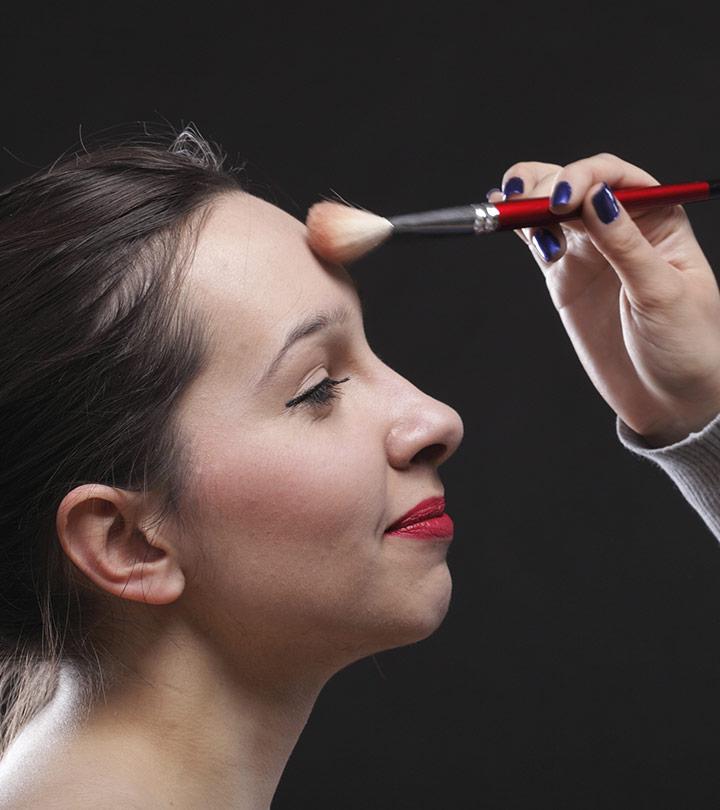 If you have been wondering how to make your forehead look smaller, you have landed on the right page. Makeup and beauty products can define your natural features and enhance your look. They can even help you create and experiment with new looks by playing with your facial features. For example, you can make your thin lips appear fuller, provide the desired thickness to your eyebrows, and sharpen your jawline if you know the proper makeup hacks. One unique and interesting feature is a large forehead, which is often considered a flaw. This article discusses some simple but effective makeup tricks to help make your forehead look smaller. Swipe up to check them out.
How To Make Your Forehead Look Smaller – Top 8 Makeup Tips:

If you want to conceal large forehead for a while, here we have the tricks that can just help you look beautiful.
1. A Hint Of Blush:

You can use a bright blush color to draw attention from your forehead.
Swipe some rosy or peachy blush along the apples of your cheeks.
Work the product upwards for slightly lifting effect.
It is also an effective trick to use shimmery glowing cheek products. It makes the light reflect on your cheeks thereby drawing attention to the center of your face.
[ Read: Hairstyles To Hide That Huge Forehead ]
2. Darker Foundation:

This makeup trick will work excellently for photographs. If you wish to make a stronger chiseled forehead look, then apply a darker foundation to the temples and hairline.
Make sure all your hair is tied out of your face, so it is easy to apply and blend makeup.
Then, pick a matte concealer or foundation, which is five shades darker than your natural skin tone.
Now, start drawing a solid line on the circumference of your forehead with medium sized flat or dome shaped brush.
Blending is a key to any makeup look. It is a crucial and essential ingredient to get a successful face contoured look. So, keep blending the product outward till you achieve a seamless finish.
The contour should look natural with no harsh lines.
Then, follow with a bronzer to make the effect appear stronger and sharper.
This trick will enhance the angles of your bone structure and minimize the look of roundness of your face.
3. Highlight:

Highlighting is an easy way to make the light reflect the center of your forehead, thereby drawing attention from the large height forehead look.
Choose a shimmery highlighter powder and apply it to the center of the forehead, exactly between your eyebrows and blend it outward.
You can also apply the highlighter to the bridge of your nose to lift the shape of your face.
This technique will make your features bring forward and downplay the width of your forehead.
4. Chiseled Cheeks:

Thinner cheeks help in drawing attention to the center of your face, thereby diverting attention from your forehead.
Simply use a bronzer powder which is 3 to 4 shades darker than your natural skin tone.
Apply it in a diagonal line from the center of your cheek towards the ear.
This makeup technique can be easily done by making a "fish face" and perfectly locating the hollow of your cheekbone and brushing the product. And don't forget to blend!
5. Bronzer:

The easiest way to make your forehead appear shorter instantly is to use a bronzer. A bronzer has to be in matte formula and at least 3 shades darker than your natural skin tone to make the effect visible.
Simply take some bronzer on a tapered blush brush and blend the shade into your temples and around the hairline. This trick will emphasize and create a stronger bone structure. This simply makes your large forehead appear smaller.
6. Dramatic Eyes:

Apply an attractive eye makeup so that the focus of your face is on your eyes and distracts attention of any viewer away from the forehead. Your eye makeup can instantly make a difference to your facial shape.
[ Read: Tips And Tricks To Make Small Eyes Appear Bigger ]
StyleCraze Says
Apply a gray, navy, or brown eyeshadow on your top eyelid, working your way up from the lashline to the crease, creating a smokey eye effect. Next, use a neutral eyeshadow that is 1-2 shades lighter than your skin tone to highlight your brow bone. Finally, finish by applying mascara and your preferred dark eyeliner.
7. Play Your Lips:

If you want to make an instant lift to your face with just a few seconds in hand, then the best trick is to play up your lips.
Apply a bright pink or coral lipstick to your lips and you will instantly notice all the emphasis going to your lips, thereby drawing everyone's attention away from your large forehead! All you have to remember is to keep the other makeup simple.
8. Choose A Right Eyebrow Shape:

Eyebrows help in achieving a thinner and younger look for your face. They help in framing your face structure. If you wish to make your forehead appear shorter, then change your eyebrow shape into an angular one.
[ Read: Eyebrows For Square Face Shape ]
StyleCraze Says
You only have to make sure the arch is high or thick so that it appears as though there is more space between the eye and brow bone.
We hope this article has answered the frequently asked question – how to make your forehead look smaller? It is indeed a struggle for people with big foreheads; they try endless ways to make them appear smaller with the help of makeup. But now that we have got you all covered, go ahead and get started. Do not be discouraged if you do not achieve your desired result immediately. Makeup is an art, and it requires practice. With a couple of trials, you are surely going to ace it.